Products
QuantaFlo® is our flagship solution that allows providers to test for early signs of peripheral arterial disease (PAD) and heart dysfunction (HD) in clinical or home settings in a matter of minutes using a compatible device.
An innovative suite of products and services
QuantaFlo gives providers the opportunity to improve patient outcomes and lower operating costs by providing fast, accurate test results for chronic diseases directly at the point of care in a matter of minutes.
Our QuantaFlo application runs on Windows, Android, and iOS for tablets and mobile, and can be integrated with enterprise-level data management systems (EMRs). Combined with the high portability of our solution, this means less time in front of a device, and more time spent caring for patients

How does QuantaFlo work?
Learn more about our Peripheral Arterial Disease (PAD) and Heart Dysfunction (HD) testing modules below
When paired with one of our sensors, our QuantaFlo PAD test analyzes patient arterial blood flow using volume plethysmography. Waveforms are presented visually for users as sensors are connected to patient digits. On-screen instructions guide users easily through the PAD testing process, and analysis from the application will notify users of any adjustments required to achieve the optimal signal quality. Results with actionable insights are available in under 5 minutes.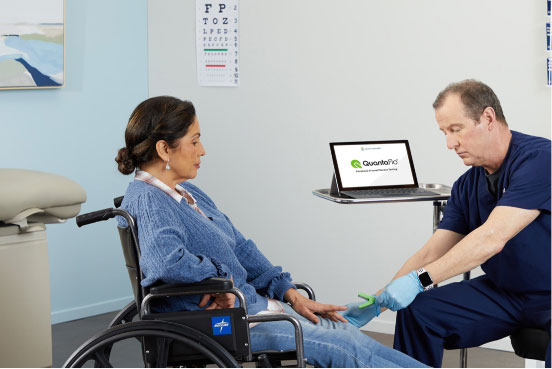 Contact us today to learn more about QuantaFlo PAD

Our QuantaFlo HD module tests patients for heart dysfunction by measuring blood flow volume changes with a sensor while the patient uses a whistle to simulate forced expiration (Valsalva maneuver). On-screen instructions within the module guide users through the testing process, including ensuring that patients are producing sufficient airflow to yield accurate test results. Results are generally available in under 5 minutes.
Contact us today to learn more about QuantaFlo HD
Testimonial
Dr. Long is a retired vascular surgeon and serves as Semler Scientific's in-house medical director.
His wealth of knowledge and experience have helped guide the development of our QuantaFlo solution into what it is today.
View Dr. Long Testimonial